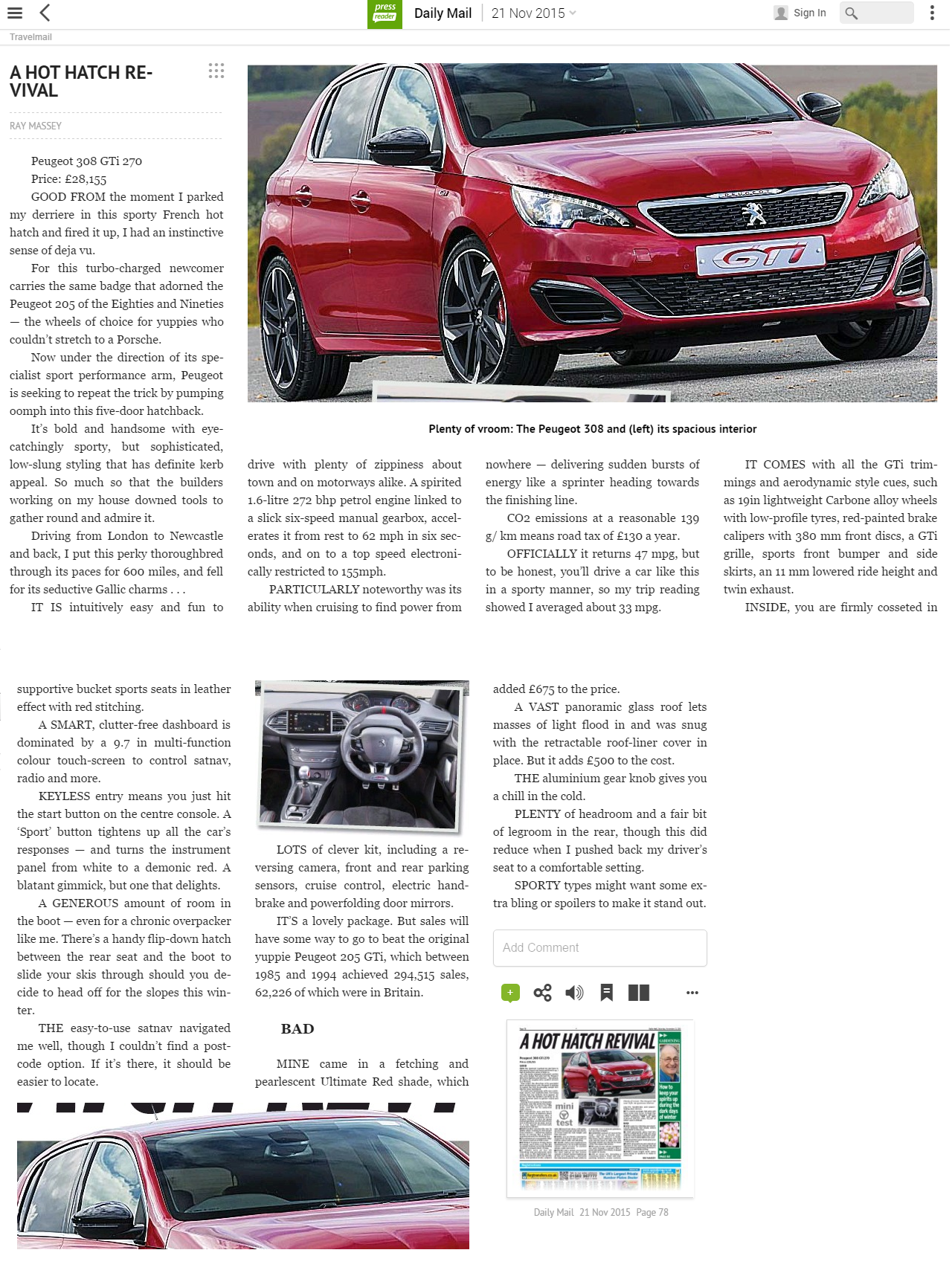 A Hot Hatch Revival on the 308 GTi by the Daily Mail
Peugeot 308 GTi 270
Price: £28,155
GOOD FROM the moment I parked my derriere in this sporty French hot hatch and fired it up, I had an instinctive sense of deja vu.
For this turbo-charged newcomer carries the same badge that adorned the Peugeot 205 of the Eighties and Nineties — the wheels of choice for yuppies who couldn't stretch to a Porsche.
Now under the direction of its specialist sport performance arm, Peugeot is seeking to repeat the trick by pumping oomph into this five-door hatchback.
It's bold and handsome with eye-catchingly sporty, but sophisticated, low-slung styling that has definite kerb appeal. So much so that the builders working on my house downed tools to gather round and admire it.
Driving from London to Newcastle and back, I put this perky thoroughbred through its paces for 600 miles, and fell for its seductive Gallic charms . . .
IT IS intuitively easy and fun to drive with plenty of zippiness about town and on motorways alike. A spirited 1.6-litre 272 bhp petrol engine linked to a slick six-speed manual gearbox, accelerates it from rest to 62 mph in six seconds, and on to a top speed electronically restricted to 155mph.
PARTICULARLY noteworthy was its ability when cruising to find power from nowhere — delivering sudden bursts of energy like a sprinter heading towards the finishing line.
CO2 emissions at a reasonable 139 g/ km means road tax of £130 a year.
OFFICIALLY it returns 47 mpg, but to be honest, you'll drive a car like this in a sporty manner, so my trip reading showed I averaged about 33 mpg.
IT COMES with all the GTi trimmings and aerodynamic style cues, such as 19in lightweight Carbone alloy wheels with low-profile tyres, red-painted brake calipers with 380 mm front discs, a GTi grille, sports front bumper and side skirts, an 11 mm lowered ride height and twin exhaust.
INSIDE, you are firmly cosseted in supportive bucket sports seats in leather effect with red stitching.
A SMART, clutter-free dashboard is dominated by a 9.7 in multi-function colour touch-screen to control satnav, radio and more.
KEYLESS entry means you just hit the start button on the centre console. A 'Sport' button tightens up all the car's responses — and turns the instrument panel from white to a demonic red. A blatant gimmick, but one that delights.
A GENEROUS amount of room in the boot — even for a chronic overpacker like me. There's a handy flip-down hatch between the rear seat and the boot to slide your skis through should you decide to head off for the slopes this winter.
THE easy-to-use satnav navigated me well, though I couldn't find a postcode option. If it's there, it should be easier to locate.
LOTS of clever kit, including a reversing camera, front and rear parking sensors, cruise control, electric handbrake and powerfolding door mirrors.
IT'S a lovely package. But sales will have some way to go to beat the original yuppie Peugeot 205 GTi, which between 1985 and 1994 achieved 294,515 sales, 62,226 of which were in Britain.
BAD
MINE came in a fetching and pearlescent Ultimate Red shade, which added £675 to the price.
A VAST panoramic glass roof lets masses of light flood in and was snug with the retractable roof-liner cover in place. But it adds £500 to the cost.
THE aluminium gear knob gives you a chill in the cold.
PLENTY of headroom and a fair bit of legroom in the rear, though this did reduce when I pushed back my driver's seat to a comfortable setting.
SPORTY types might want some extra bling or spoilers to make it stand out.
Latest News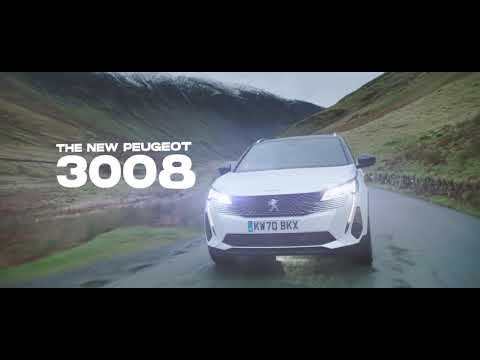 22-02-2021
The New 3008 & New 5008 are now available at Gateway Crewe, please…
Read more >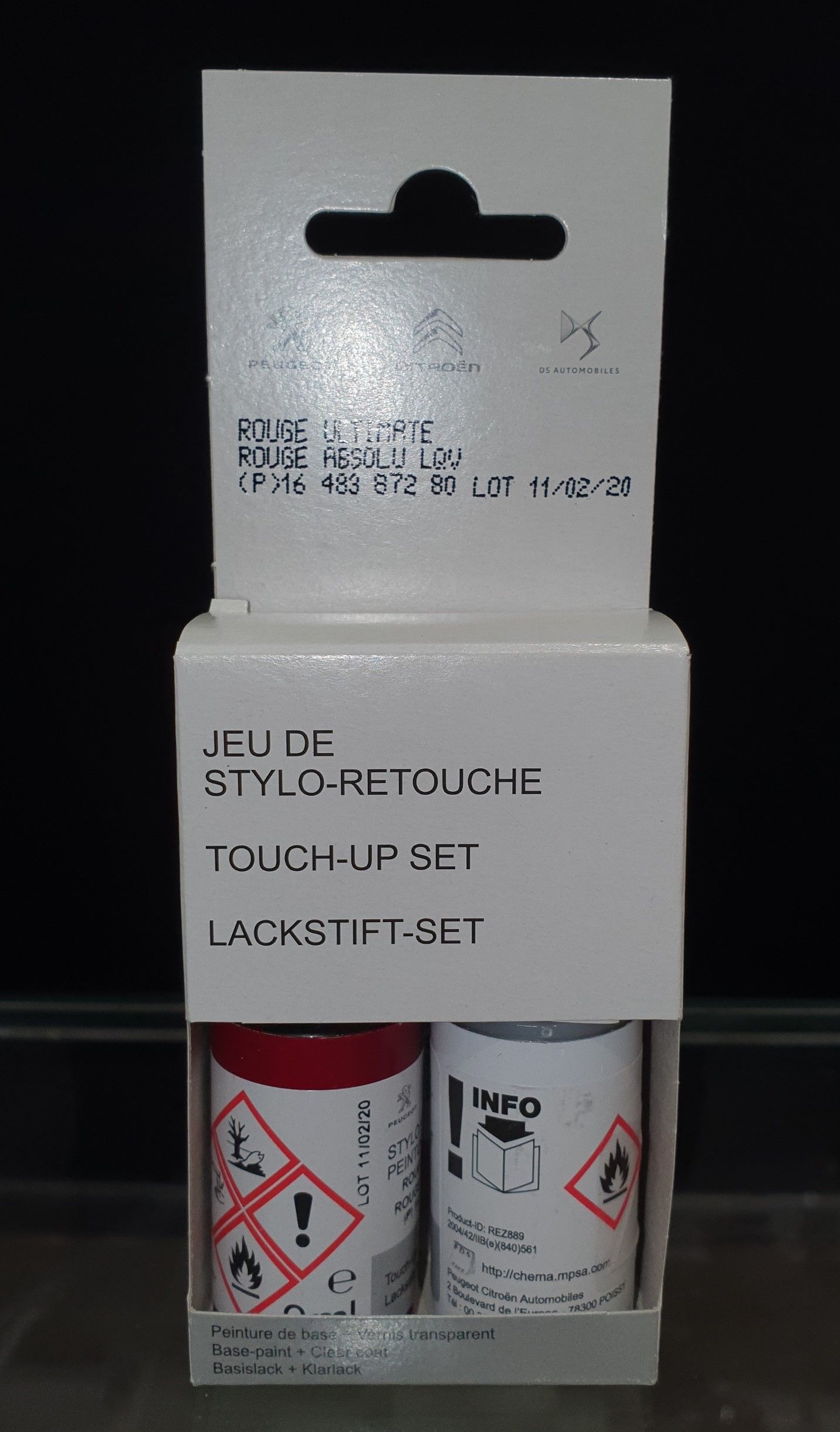 13-03-2020
NOW IN STOCK !!! ULTIMATE RED TOUCH UP PAINT PENS. WE HAVE ONLY A LIMITED STOCK.…
Read more >